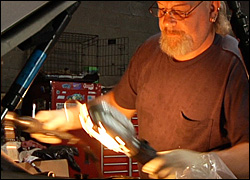 At RJT Motorists, no  mechanical repair is too small or too complicated and we always supply an estimated time frame and cost for all services. RJT will never refer you to a Dealer for your repair, because we are fully equipped to handle all makes, models and problems that your car may have. We only use the finest parts and you can be sure that we'll do everything possible to get you and your car back on the road quickly and safely.
RJT Mechanics are ASE Certified and licensed by the New York State inspection program.
RJT Air Conditioning Technicians are board certified by MACS and use the latest environmental safety and recycling procedures as well as the most current repair techniques.
RJT Estimators are licensed by the New York State department of motor vehicles.
Our Guarantee
RJT will use only the finest parts and always work in a timely manner to get you back on the road as soon as possible.