RJT specializes in auto body repair for all models and makes of both foreign and domestic automobiles. If your car is involved in an accident, RJT will be there to provide immediate towing 24/hr a day…and excellent repair service to get you back on the road in a timely manner. You can be confident that the job will be done properly and your vehicle will be in fine working order when done.
We work for our customers, not the insurance company. RJT Motorists Services was founded in 1975 to provide residents of Westchester with top quality collision repair. Through the years, we have built a great reputation for honest service, guaranteed work and commitment to our clients. We take pride in making sure your car is brought back to its pre-accident condition. We are also concerned about your safety, and work hard to make sure that only quality parts are used on your vehicle.
RJT is an independent body shop. we do not have any contracts with insurance companies – we work for you. That means we are your advocates when negotiating on repairs of your vehicle with insurance company. We insist on top quality replacement parts, top quality paints and top quality application methods. This ensures that you car is fixed properly and will retain its resale value.
We understand that time after the accident can be stressful, and want to make sure that you get your car back quickly. Our friendly staff will make sure that all your questions are answered and all of the repairs are performed on schedule. Our technicians are ASE and I-CAR certified, and will ensure your car is returned to you in top mechanical condition.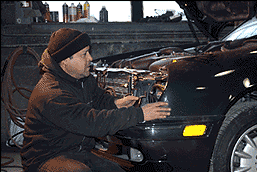 Please watch this video if your insurance company is recommending you use their suggested repair facility. (It's called 'Steering')
What Do I do if my insurance company wants me to go to their suggested repair shop?
You have the right to select the shop of your choice. Pick a repair shop, leave your automobile there and notify your insurance agent.
Do I need three estimates?
Get as many as you like, but the insurance company cannot demand any. Select a repair facility of your choice before you discuss the claim with your Insurance Company. Do not drive a damaged vehicle.
The Insurance Company has 6 days to inspect damage initially and 2 days to inspect any additional damages. You can require the insurance company to go to you for their inspection of damage. We suggest that you leave the vehicle at our facility, so that we may go over the damage with the insurance adjuster. Enabling your vehicle to be repaired the best way, not necessarily the cheapest way that the insurance company would like it to be.
The Insurance Company may attempt to steer you to one of their authorized repair shops. Beware these shops may have cut deals with that insurance company or agreed to attempt to sell you cheap aftermarket parts.
Just tell your insurance company "NO!" — it's your power word.